Springfield announces apprentice opportunities
21st February 2022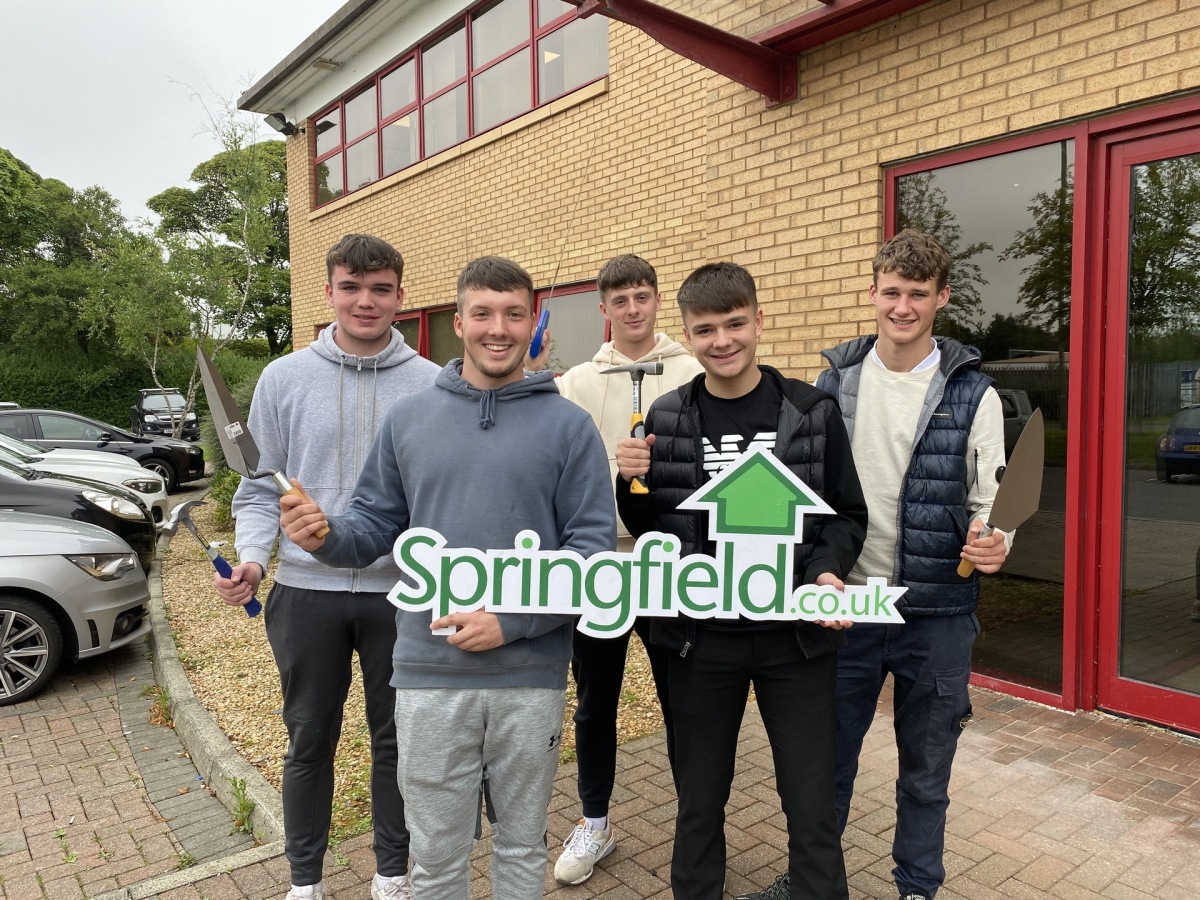 One of Scotland's leading home builders, The Springfield Group, announces additional apprenticeship vacancies in celebration of Apprentice Week 2022.
Quality builders, Springfield Properties, Springfield Partnerships, Dawn Homes, Walker Group, and, most recently, Tulloch Homes, are part of the Springfield Group and there are more than 10 new apprenticeship vacancies across the company available.
Building from Dornoch to Duns, the Springfield Group aims to have 15% of its staff in further education, formal training, or hired as apprentices. Already exceeding this target, the Group is keen to create additional opportunities to offer a mix of classroom theory and on the job practical learning for those looking for a career in construction.
Group HR Manager, Diane Kemp, works closely with apprentices each year and strongly believes in the benefits of employee development. She said:
"Across the Springfield group, we work with CITB, colleges and training providers to combine apprentices learning with on-site experiences giving them the right mix of theoretic and practical skills. This applies to all apprentices – craft, technical, modern and graduate.
"We love to build a connection with the apprentices. We meet them on their first day, are on hand to help them throughout their apprenticeship and it's great to see them develop their skills and successfully complete their apprenticeship with us.
"We're looking forward to receiving applications for this year's apprentice intake and supporting them on their new career in construction."
Apprentice Joiner, Reece Harris, is in his final year of his apprenticeship and working at Dykes of Gray village in Dundee. He said:
"An apprenticeship has so many benefits. The first day of college can be quite daunting when you're learning the theory, but then once you're on site and implementing the skills learned in the classroom you get a better understanding.
"At Springfield, there's a variety of work apprentices to get involved with from finishing, kit erecting and roughing.
"You learn wee tricks from qualified staff and different things from different tradespeople on site. There's great banter too!"
Fourth year Bricklaying Apprentice, Callum Falconer has worked across multiple Springfield Properties sites in the central belt and is set to graduate this year. He said:
"My Springfield apprenticeship has been invaluable. I've been with the same squad since I started and was made to feel like part of the team from day one.
"I've obviously learned so much from my class time and while out on site too, but, for me, the apprenticeship went beyond the trade skills. I was young when I started, and this opportunity has helped me mature, given me the confidence to speak with different people, and to adapt to different styles of management on different sites.
"I always wanted to be a brickie and now I'm a few weeks away from being fully qualified. Springfield took a chance on me when no one else would, gave me the opportunity to train on the job and, are offering me a full-time position once I've completed my course.
"It's been such a great journey and I've thoroughly enjoyed every minute. I wouldn't change this experience for the world."