Springfield celebrates Housebuilder of The Year
24th June 2022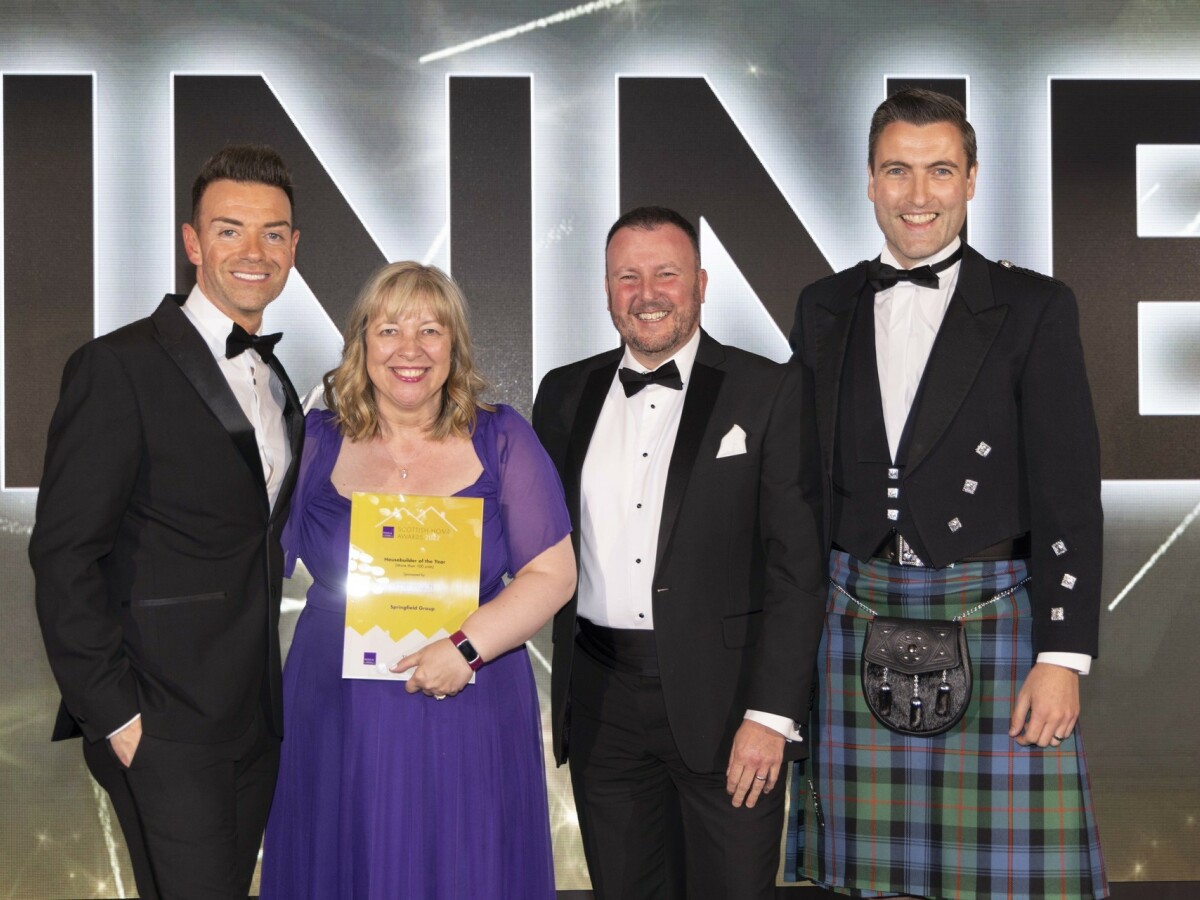 One of Scotland's leading developers of private, affordable and Private Rented Sector (PRS) housing has been awarded Housebuilder of the Year (more than 100 units) at The Scottish Home Awards.
The prestigious industry awards, which have been running for 15 years, celebrate the achievements of the housebuilder community, as well as the people behind its success.
The Springfield Group picked up the top accolade following a review from a panel of independent judges made up of leading industry experts from across Scotland.
The judges praised Springfield for the strength of its strategic partnerships with housing associations and local authorities, as well as with its PRS partner Sigma Capital. The Group's approach to delivering high quality homes to meet a range of needs was also recognised and is evidenced by Springfield's strong affordable housing offer.
The Elgin-based developer was also recognised for its Bertha Park Village, Perth, scooping a second award for Housing Development of the Year, Large. The semi-rural community spans 823 acres and will eventually comprise of 3,000 homes across a range of tenures. The development has become the gold standard for how residential placemaking should be approached in Scotland and has been designed to have everything a community needs to thrive, from cafes, to shops and vast greenspace. It also features the first purpose built high school in Scotland for 20 years and is one of 17 Microsoft flagship schools in the world.
The announcement follows Springfield Properties acquisition of family owned Mactaggart & Mickel's housebuilding business and timber kit factory which was completed earlier this week.
Comprising Springfield Properties, Dawn Homes, Walker Homes and Tulloch Homes, and now Mactaggart & Mickel, the Springfield Group is now one of Scotland's largest house builders with developments across the country from the Scottish Highlands, to Elgin and Glasgow and to the Scottish Borders.
Innes Smith, chief executive of Springfield said: "This is an outstanding success for our company and our team.
"We employ some exceptionally talented people across the Springfield Group, and it is because of their vision, passion, and hard work that we are able to deliver such high-quality homes and create truly inspiring developments, such as Bertha Park our village development in Perth which is a best-in-class example of a new community that has been created to support generations to come.
"This has been an incredibly exciting year for Springfield but as we have grown, we have never lost sight of our roots and retain the same values as we had when we were a small family firm. Our staff and our customers are at the heart of everything we do, and our goal remains the same today as it did 30 years ago. We want to create sustainable developments where communities can thrive, and create places that people are proud to call home. To have this formally recognised is a huge honour."