Springfield Scottish Squash Open 2023 reaches thrilling conclusion
25th September 2023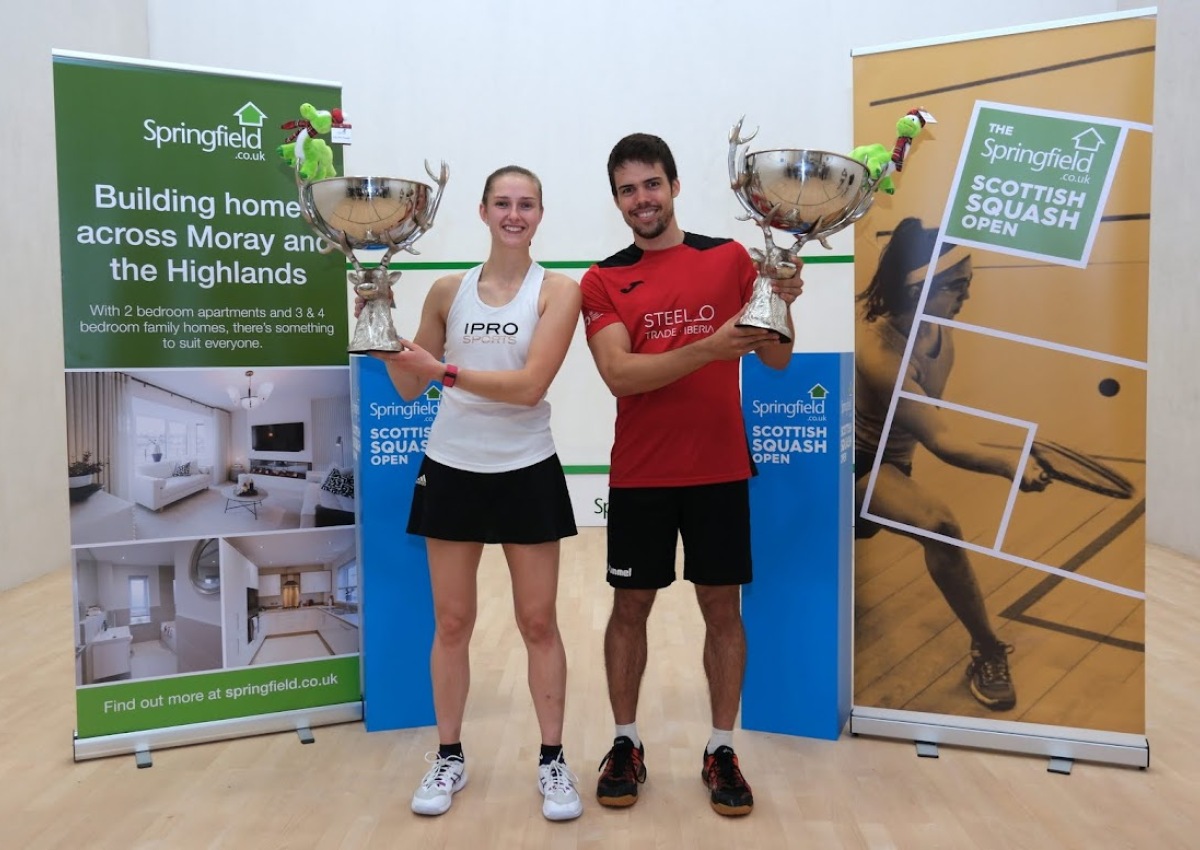 The Springfield Scottish Squash Open 2023 delighted sports fans in the Highlands as it reached its thrilling conclusion on Sunday.
The final day of the competition was a feast of world-class squash, with four players giving their all in a battle for the top prizes.
The men's draw was won by Edmon Lopez, a familiar face in Scotland having clinched the title in the same event in Edinburgh in 2019.
Speaking after his victory, Edmon said: "I love playing in Scotland – I don't know what it is but there's something here that makes me play better.
"I don't know if it's the weather, or maybe there's something in the water, but there's something here that makes me feel better and more calm."
The unseeded 27-year-old Spaniard triumphed over the second seed, England's Ben Smith in a hard-fought contest.
Having lost the first game, Lopez completed a stunning come back to win 9-11, 11-8, 11-8, 11-6 in a match which lasted over an hour.
The women's trophy was lifted by 25-year-old English star Grace Gear, who had finished runner up in the competition at the same venue when it was last held in 2021.
Grace said: "To win another title like this – I struggle to put into words how much it means – I'm just so pleased.
"I had a tough route through to the final and a tough match today, but I definitely wanted to win this week and I'm glad I was able to back that up with my performances.
Second seed Gear proved too strong for compatriot Asia Harris, clinching an 11-3, 11-6, 11-6 win in 26 minutes.
The Springfield Scottish Squash Open 2023 saw record ticket sales, while also giving a first experience of squash to over 100 children from local schools.
As a world-level Professional Squash Association event, 15 nationalities were represented amongst the field of 48 players competing for their share of the $24,000 prize pot.
The finals were streamed on BBC Sport Scotland, raising the profile of the sport and the event across Scotland.
Scottish Squash CEO Maggie Still said: "The Springfield Scottish Squash Open 2023 was a fantastic event which showcased some of the world's best squash players, right here in Scotland.
"We are grateful to all our partners, as well as the local volunteers that helped to make this event a huge success.
"World-class events like this are a central pillar of our vision to raise the profile of squash in Scotland, and we will aim to continue to grow the stature of this competition – just as we have managed to do this year."