I'm so happy in my new home
Linkwood Steadings, Elgin
From the moment I saw the plans for the Linkwood Steadings apartments, I knew that was what I wanted to buy.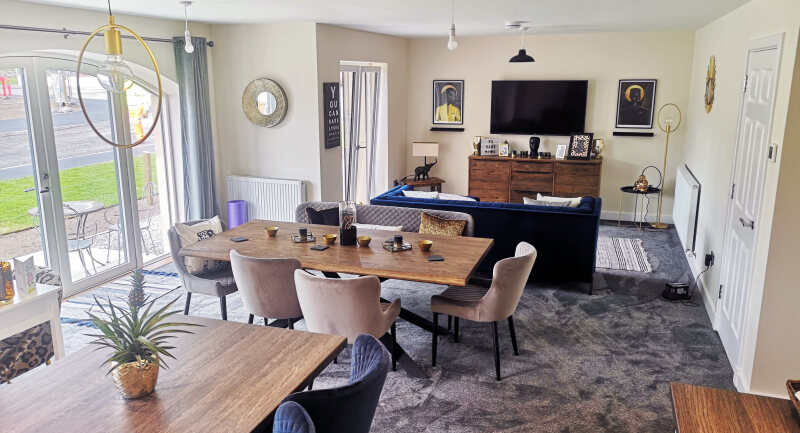 I was a first time buyer and would never have considered a new build. I could appreciate the benefits like the 2 year warranty, the efficiency and the cover with NHBC, but I liked the idea of living in a home with character – a one off.
So when my step-dad showed me the plans for the Linkwood Farm building, it ticked all the boxes for me. Thankfully, there was a delay with the planning application which worked our perfectly as I'd not long moved back to Elgin from Aberdeen just in time for the sales release.
As there were only 6 apartments in the steadings building I was worried I'd miss my chance, so the morning of the sales release I was queuing outside the sales office from 4am to be sure I got the home I'd had my heart set on for so long!
And I'm so glad I did. It's such a peaceful spot. You actually feel like you're in the countryside but you're so close to everything in Elgin. The neighbours are all really friendly too.
I've especially loved living here the last few months with everything that's been going on this year. I'm a social worker and I've been working from home. It's so light and beautiful here with kids out on bikes and parents walking their children to school in the morning. It's lovely.
Externally the steading is beautiful and full of character with arched doorways, nice stonework and there is a great open green area at the front. Internally, it's just as amazing. It's open plan and so spacious – perfect for hosting which I love. I have a massive dining table and can't wait to have all my pals over.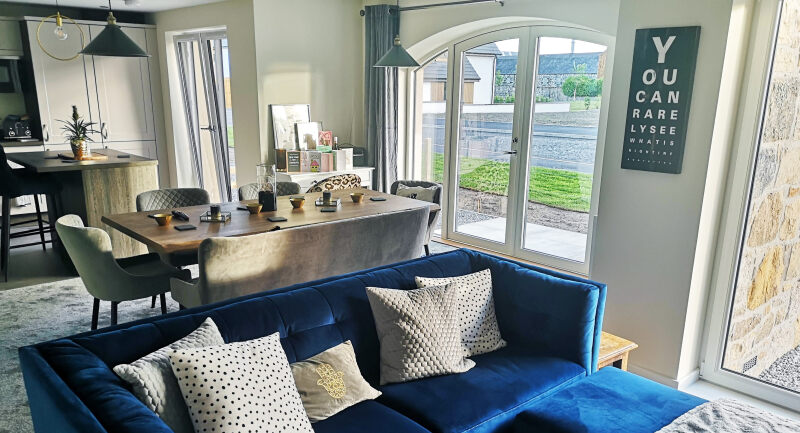 I struggled to picture the size of the flat from the plans, but my stepdad is a builder and helped a lot. I'd show him a piece of furniture and he'd say "wait until you see the space" as I'd probably want to get something bigger. My brother actually used to live in a new build 3 bedroom house in Glasgow and my flat is only 2 sqft smaller!
The girls have seen my new home and they love it. One of them has even reserved a Springfield home across the road in Elgin South. She loved the standard of specification and that everything is included – especially as she is pregnant. It's one less thing to worry about.
The fact that everything is included was great for me too. As a new buyer, using Help to Buy, I'd have never been able to afford quality white goods let along a dishwasher when I moved in. It made the buying process that little bit easier knowing that everything was going to be done before I moved in.
I really enjoyed working with Riverside Kitchens for my kitchen too - especially as they gave me an image of what it would look like once it was finished. I added an island to the kitchen so it really is perfect for entertaining!
Despite not being a fan of new builds, now I'm in one I'd definitely recommend Springfield. I've got the confidence and added security that if something goes wrong, Springfield will take care of it. I'm so happy in my new home.
Alexandra
Interested in South Glassgreen, Elgin
Find out more about this exciting new development set on the South side of Elgin..
South Glassgreen - Part of Elgin South

Show home
Read next
Bertha Park, Perth
Read previous
Meadow Lea, Nairn