The Culbin
Dykes of Gray, Dundee
The Culbin is a 4 bedroom show home at Dykes of Gray village in Dundee. Our outstanding village concept has grown over the years to build a community, with the addition of amenities such as a local shop, bus route, ATM machine and several playparks – all providing easily accessible facilities within the development. It was time for an new show home to give an up to date representation of the quality and specification on offer in a Springfield home, and The Culbin was a fitting choice.
Like the surrounding development, it is a home which has grown and evolved over the years, while maintaining an enduring reputation as a popular choice with our customers. Stepping inside this home, it's easy to see why. From its striking architecture both outside and in, to the versatile layout and lavish specification, it's a home which represents the quality you can expect across the entire Springfield range.
As you step through the front door, the first room you come to is a large entrance vestibule with its own wardrobe. Our designer has gone for a warm rustic red textured wallpaper and a rich dark wood floor, complemented by some modern black furniture. The large, frosted window provides privacy and natural light, and the large wall mirror makes the space feel even more open.
Stepping into the hallway, and the colour scheme continues, with a light coloured carpet on the staircase breaking up the darker colours and emphasising the design of the space. The large, curved bottom step adds a nice flourish, and there's a large indoor plant tucked attractively into the corner. The home has a great flow, with all the ground floor rooms accessible from here.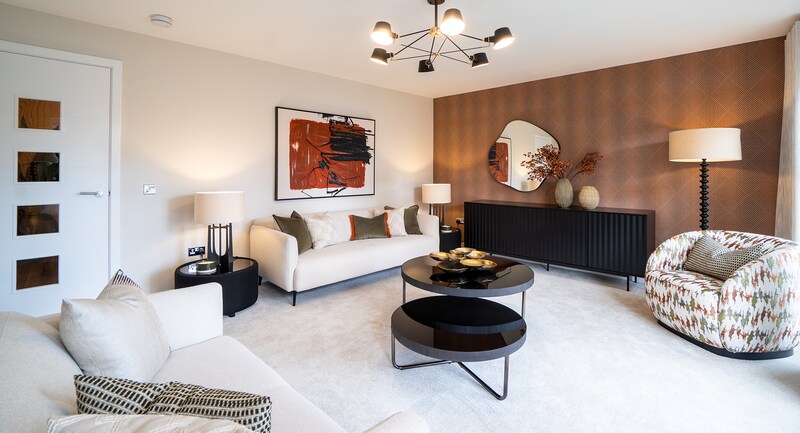 The lounge, facing the front of the home, makes an emphatic statement with its large floor to ceiling windows casting light beautifully across the room. The space on offer is immediately noticeable, creating a light an airy atmosphere. Dashes of red provide a warm and exciting pop against the softer gold and champagne coloured curtains, carpets, and sofas, which give off a classy appearance. As standard, our lounges are fitted with chrome USB sockets and switches, as well as TV and broadband connection points, adding flair to the finish.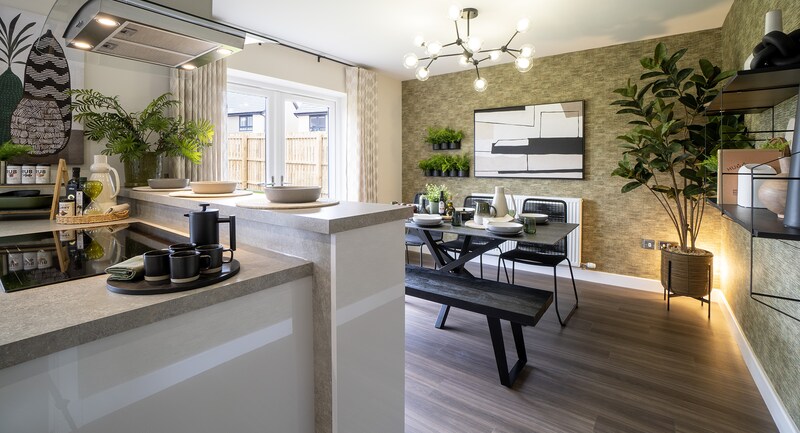 Moving into the open plan kitchen and dining area, we find a refreshing change of colour palette. While the dark wood floor from the hallway continues, the walls are now finished with a textured mix of earthy greens, yellows, and browns. With the dining room facing directly on to the back garden it has a great view courtesy of the French patio doors, the colour scheme is very fitting. This is emphasised further with dashes of plant life throughout, the largest of these plants being illuminated by a warm yellow light in the corner of the dining room. The kitchen is finished with grey slab worktops and white gloss cabinetry giving a fresh and vibrant look, and a utility room provides you with even more storage.
And this kitchen is not just a pretty face – there are some fantastic features, included as standard in all Springfield homes. Integrated appliances are included in our fixed price, spanning your oven, hob, cooker hood, fridge freezer, microwave, and dishwasher. You can also customise the finishes from a wide range of worktops, cabinets and door handles to create your own idea of your perfect home. We have a wide range included as standard which you can mix and match from.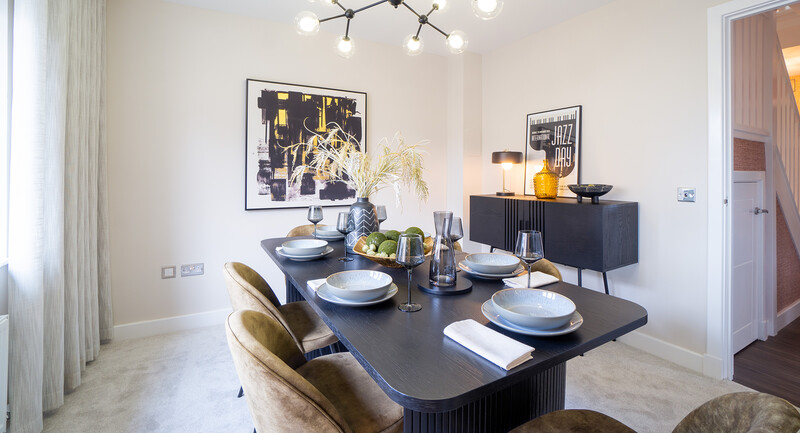 In addition to the dining area in the kitchen, there is also a separate room on the ground floor which we have opted to showcase as a formal dining area. Perhaps this is the room where everyone eats on those special occasions like Christmas or birthdays. Or it could be used for a different purpose altogether, making an ideal downstairs bedroom, home office, kids' playroom, or study area.
Completing the tour of the ground level, we have the W.C. The wall tiling, vanity units and flooring all come together to create a streamlined combination, while a large wall mirror also emphasises the space. There is great storage in the vanity units for all bathroom bits and bobs. We have also added some green plants bring the room to life with some added colour.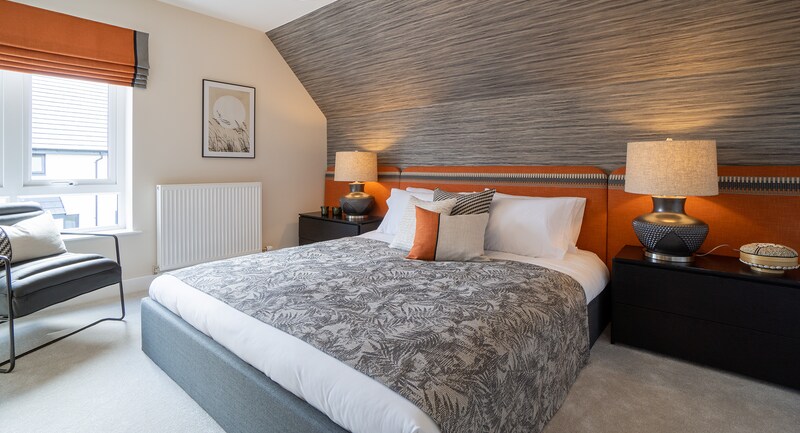 Ascending the magnificent staircase, we find a spacious landing trailing off into the four upstairs bedrooms. We start with bedroom 1. Its sloped ceiling extravagantly frames the room which is decorated in greys and accents of orange. One of the huge highlights of The Culbin is that this bedroom has an en-suite and walk in wardrobe, injecting fun and luxury into getting ready to go out. The en-suite has a Velux window above the sink, and also includes a shower cubicle with full height tiling. Light neutral colours have been used to keep the room feeling fresh and bright.
The next bedroom we move along to is one of the most unique in the Springfield range. A long corridor takes you past the fantastic fitted wardrobe storage and second en-suite bathroom, opening out into the main bedroom space. Sloped ceilings on both sides create a satisfying symmetry, with the bed staring you face on and inviting you to relax. Our designer has emphasised the mirror image effect with matching bedside tables, lamps, and chairs on either side. Another eye catching note of interest is the dual aspect windows. Facing the front there is a window inset into the wall, where we have placed a quaint writing desk to showcase the space. To the rear, there are Velux windows set into the sloping ceiling. Light spills in from both sides, highlighting the unique qualities of this bespoke bedroom.
Bedroom 3 adds something different to the mix, doubling as both a spare bedroom and a study. A large desk spans along the length of the wall, while there is also a single bed tucked into the other corner. The room is boldly decorated with a green triangle feature wallpaper pattern, and the choice of wooden fitted wardrobe doors in this room add to the elemental décor.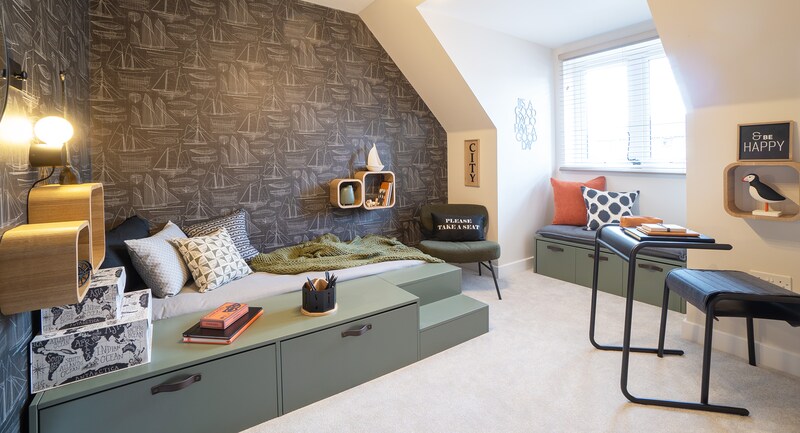 The fourth and final bedroom is showcased as a stylish child's room. There is a subtle army theme, with the khaki bed storage, the mesh material duvet cover, and the typeface on the armchair cushion, which reads 'please take a seat'. There is also a hint at an interest in engineering, with schematic doodles and scale models of boats and bicycles, as well as some Japanese 3D logic puzzles and a massive ruler on the wall which measures feet on one side and centimetres on the other. Given the Culbin home is a remarkable display of design, we find this room to be a fitting tribute.
Finally, there is a family bathroom which services all of the bedrooms on the upper floor. There is so much space in here, our designer has even popped a chaise lounge in the window area. The grey floor and wall tiling ties everything together nicely to create a modern, cosy bathroom in which to enjoy a nice long soak with bubbles in the water, and hopefully in a glass too!
And that brings us to the end of the tour. Hopefully by this point, you are as convinced as we are that the Culbin makes a wonderful family home. Its beautifully laid out, maximising space and light, with architectural flourishes brought to life through expert craftsmanship. Its thoughtfully designed to have families at its heart, with a low maintenance, high quality specification giving you everything you need. There's also great storage throughout, providing plenty of space to grow into and keep mementos safely tucked away. And it's been thoughtfully decorated to create that warm sense of home, with a chocolate box of attractive rooms to explore.
If you can imagine living in a Culbin, take a look at our developments to find one near you. You can also check out our Dykes of Gray village page with all the information you need about this fantastic location, and even book an in-person visit to this show home.
*This show home includes features which are optional upgrades available at an additional cost. Please speak to your sales consultant to confirm what is included as part of the standard specification on your desired development. This home has also been built with a sunroom which is only available on selected plots.