The Kincraig
Pool of Muckhart
When you think Pool of Muckhart, you picture a warm and homely village with country charm. Subtle details give a majestic feel to the area, and our vision was to capture a little piece of that magic in our Kincraig show home, combined with the luxury and environmental benefits associated with modern living.
As you enter the home, it feels bright and open, in part thanks to the exposed stairway which gives you a peek of the wraparound landing above. Pops of gold add vibrance to the room, notably on the lampshade and rug, which sits on top of a beautiful, tiled floor. Stretching across two floors, the captivating feature wallpaper directs your gaze upward, highlighting the grand scale of the architecture. While it's quite an impressive entrance, you can easily imagine the sound of children playing upstairs and the smell of food drifting through from the kitchen. It exudes a positive energy that makes you feel at home.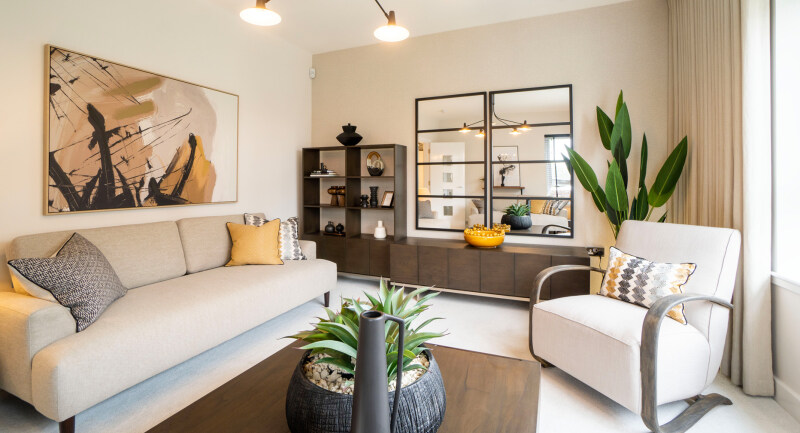 Moving on, we'll first turn our attention to the lounge of the Kincraig show home. Continuing the theme from the hallway, we have soft gold lighting and couch cushions, as well as matching wooden furniture. Large indoor plants are a reminder that the beautiful countryside is right outside the door. There are also dual aspect windows perfect for looking out over your front garden and spotting guests coming up the driveway. The rustic sand-hued curtains gracefully frame the view, while the layout artfully showcases the abundant space, where sprawling couches and a window armchair invite relaxation. We have substituted the television for a large wall mirror with an industrial black frame which bounces the light from the windows back across the room. However, there is a TV and broadband point as well as USB plug sockets in the lounge, should you want to add modern comforts to the room.
Adjacent to the lounge, there is a study room which could be substituted as a fifth bedroom if required. With a growing trend of people swapping the bustle of city life for working from home, we have opted to portray this room as a practical office, stylishly decorated with geometric wallpaper and a black desk. There is a nice little wooden shelf, perfect for popping up some family photos, and a comfortable chair with footstool for when you need to take five minutes to decompress with a coffee. Again, there's lots of indoor plants, soft lighting, and the continued gold colour scheme, creating a relaxing but professional space to help you achieve your goals.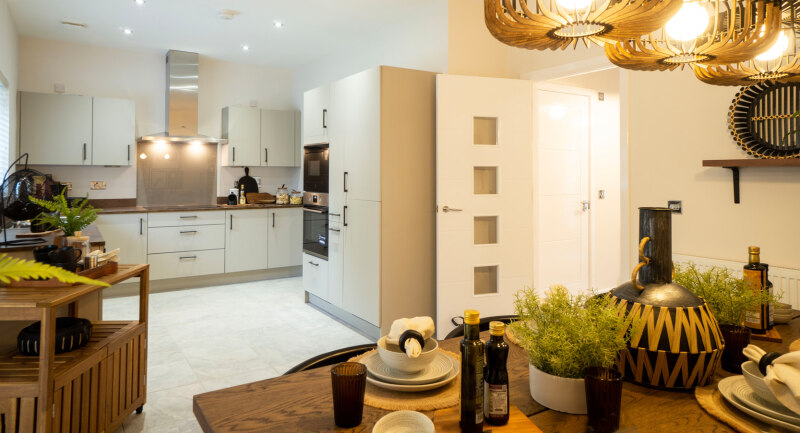 The kitchen truly captures the essence of cosy country living brought into the 21st century. The integrated appliances, notably the oven and microwave set into the tall units, look very sleek and allow the cabinetry to shine with a uniform look across the kitchen. The modern units are balanced subtly with some rustic items, for example clay jugs, and jars of seashells sitting on the worktops.
The open plan kitchen space is shared with the dining area and sunroom, and the décor gives a very relaxed, homely vibe reminiscent of a farmhouse café. The dining area, with its pendant lights and ochre bench seating and pillows creates an inviting area. The long dark timber table and accompanying wooden drinks trolley give a traditional feel, while the quirky abstract wall art adds a modern spark.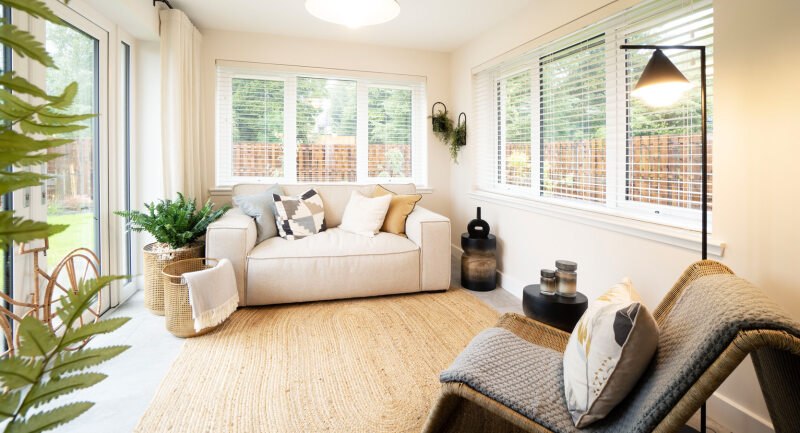 Moving through to the sunroom, we find an area that truly feels special. The woven floor rug is a sandy colour, giving the sensation of being at the beach and connected with nature. Encompassing windows immerse the room in natural light and panoramic garden views, with French doors allowing you to connect the outdoor and indoor areas together. There are hanging baskets on the walls as well as a quaint pushbike ornament, items that all make your mind wander to a happy place. And of course, there is a large, comfortable couch to sink into and enjoy reading a book, listening to a good podcast, or even having a little nap in tranquil surroundings.
Many of the features you can see in the garden come as standard in a Springfield home. The patio slabs, turfed grass and the 1.8m surrounding fence are all features we include, so you can enjoy your garden without any works to carry out. There's also an outdoor tap, perfect for watering your plants. We have added a flower border along the back fence of our show home to illustrate how you can easily add a little bit of greenery into your garden.
To finish the ground floor, you have a beautifully appointed downstairs W.C. The mosaic tiling is an unusual but satisfying choice, while a woven plant basket and wall ornament uphold the character-filled aesthetic found throughout the home. The artefacts in this room impart a handmade charm, giving a nod to traditional country living.
As we move upstairs, the landing is an impressive area, wrapping around the staircase to create an attractive, open space, complemented by a window providing extra light.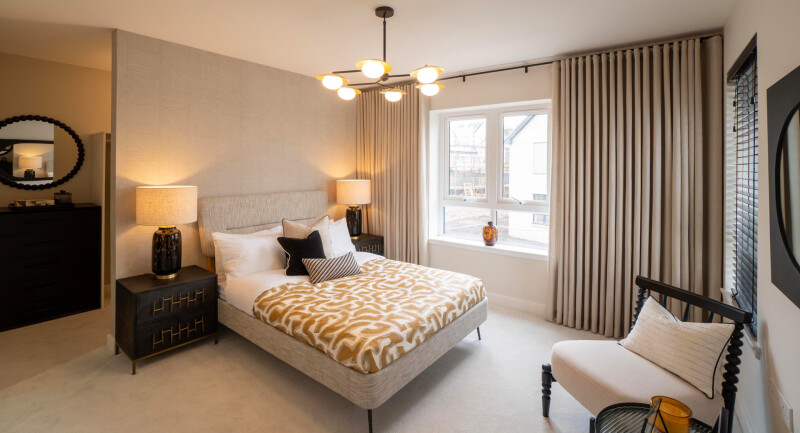 Bedroom 1 is paradise. The leafy throw on the bed combined with the warm mood lighting, set against brown textured wallpaper casts your mind to a woodland walk on a cool summers' day. The room wouldn't look out of place in a boutique hotel, with its glorious en-suite and walk in wardrobe providing luxurious additions.
Entering the en-suite, the wave effect textured tiling has a very tactile appearance, and with a matching grey tile floor and vanity units, everything comes together for a smart and succinct look. The shower cubicle features floor-to-ceiling tiling, and other benefits included as standard are a towel warmer, shaver socket, large wall mirror and LED lighting.
Heading to bedroom 2, you'll find even more space and even more luxury, with yet another en-suite and walk in wardrobe providing the ultimate pamper space. This room also has dual aspect windows providing a great view from the bed for you to wake up to every morning, and the colour palette is subdued yellow, sand, and grey tones that will help lull you into a relaxing mood. This en-suite is decorated similarly to the previous one, and also includes all the same creature comforts.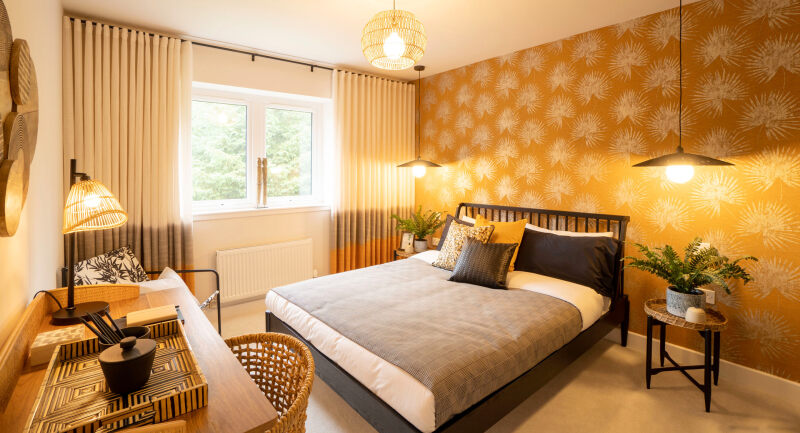 Moving along the hallway to bedroom 3, we find a contemporary bedroom which can easily accommodate a double bed and a writing desk. The light fittings in this room give it the wow factor, with the two bedside lamps suspended from the ceiling with a backdrop of a bold white-on-gold leaf print wallpaper accentuated by the light. Like in other rooms, we see woven objects like the desk, chair and ceiling light fixture, and more dark wood on the fitted wardrobe doors. This is a home which offers exceptional storage throughout allowing you to show off the rooms with minimal clutter.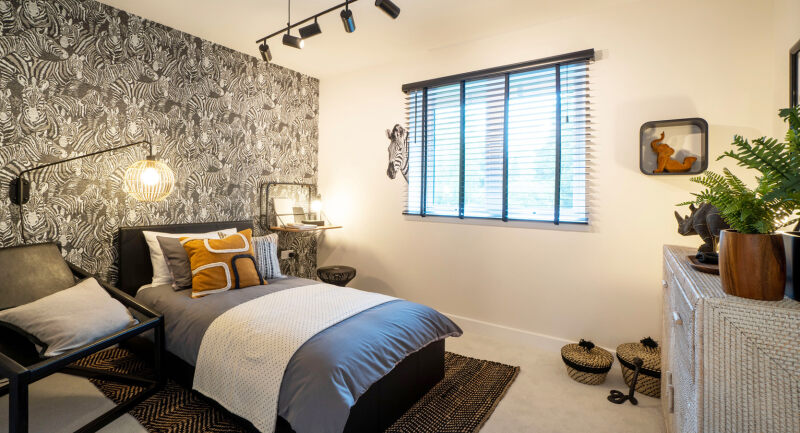 For the final bedroom, we have an interesting animal theme. The wallpaper takes the words 'zebra-print' to a whole new level, with a classy feature wall showing a collage of zebra head profiles. It's a subtle design that you may not even notice at first glance. Throughout the room there are other animal monikers, such as a rhinoceros statue and elephant print artwork. The window blinds are clever too, with the horizontal black shades mimicking stripes, and a decal of a zebra positioned at the side of the window as if poking its head in from outside. While we acknowledge there are no safari animals currently residing in Pool of Muckhart, the design is certainly another homage to nature, offering a mature yet imaginative space—ideal for a child's room or creative escape. This bedroom also includes a fitted wardrobe.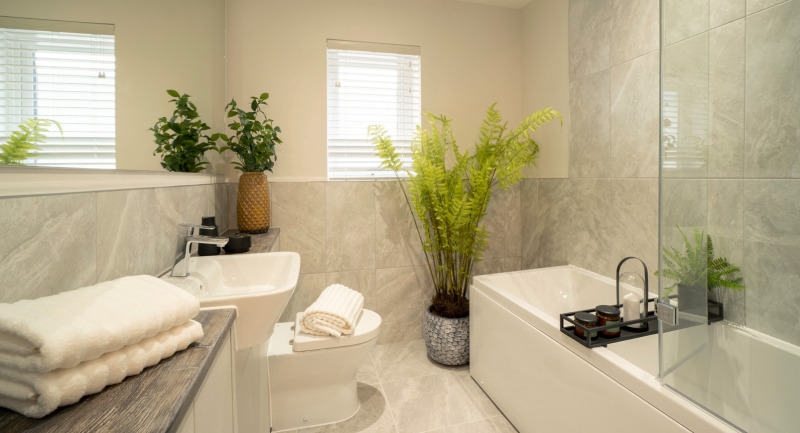 Concluding the journey, we arrive at the upstairs bathroom. Situated in a central location with two bedrooms either side, this is an ideal family bathroom with a shower over the bath providing flexibility for everyone. If you are taking a long soak in the bath, the room is ideally catered to helping you unwind. The designer has included more plants, there is a window letting natural light in, and the standard of finish is fantastic - with grey tiled flooring, vanity units and large wall tile panels.
The environmental impact of the Kincraig show home at Pool of Muckhart has been thoughtfully considered. All homes on the development are powered by air source heat pumps, which use no fossil fuels. Each home also includes a thick insulation and durable materials to make sure your home stays effortlessly warm throughout the winter and cool in the summer. We also install cabling for an electric car charger in every garage, so should you want to move towards EV technology in the next few years, your home is prepared. We want to make it as easy as possible for you to make green choices without compromising on your comfort.
We certainly feel like the Kincraig show home at Pool of Muckhart captures the essence of its surroundings, while showing what it has to offer additionally. The theme of a warm, inviting home with natural materials connected to the outdoors runs throughout, while we can also see features like modern appliances, great storage and a packed specification that showcase the best of modern living. It's everything you would expect from a Springfield home, and most importantly it offers all the things that make a home feel special.
If you would like to come and see it for yourself, you can book an appointment for the development, and our friendly sales consultant will be happy to answer any questions about our homes. We hope you've enjoyed this virtual tour and look forward to seeing you.
*This show home includes features which are optional upgrades available at an additional cost. Please speak to your sales consultant to confirm what is included as part of the standard specification on your desired development. This home has also been built with a sunroom which is only available on selected plots.
View previous
Drumossie, Inverness