The Dunrobin
Strathkinness
Get ready to experience the luxury and charm of the magnificent Dunrobin show home at our Strathkinness development in Fife. This wonderous five bedroom home has a grand floor area of over 2,000 square feet, and that's before you get to the double garage which adds yet even more space. Naturally, we felt inclined to showcase the fantastic interior of this home for the first time and let its true potential shine for our customers to see.
Nestled in the quiet village of Strathkinness, its surroundings include a humble community, natural wildlife, and picturesque countryside, as well as some of the worlds most revered golf courses just 10 minutes away in St Andrews. Our designer looked for influence from the local area when decorating the Dunrobin, while also capturing its warmth and practicality as a modern family home.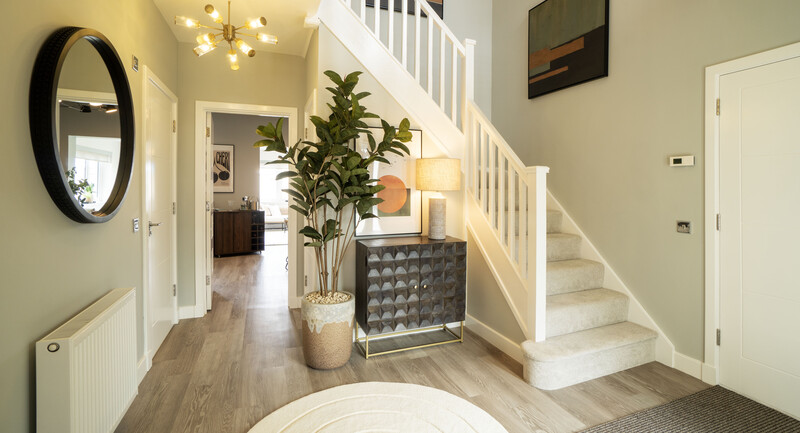 As you enter, the main hallway envelops you subtly in grandeur, while the earthy colour palette of greens and browns soften the features and create a relaxed, welcoming first impression. The staircase design makes the room feel more open and expansive, with visibility up to the first floor landing. We have opted for a modern console table and large indoor plant, which help to showcase just how large this entryway is. There is also some modern artwork displaying birds flying over an ocean sunset – a reminder that the coast is only a short drive away.
Moving to the lounge, there is a real sense of class and sophistication in the design. The architecture of this room is exceptional, with dual aspect windows caressing the room in light, highlighted by a large pair of curtains which span the entire width of the room. The rich tones of the brown wallpaper, drinks cabinet and coffee tables, accented with gold handles and legs makes the room feel elegant, reminiscent of a clubhouse reception. There are also reminders that this is a cosy, relaxed space to be enjoyed, with plenty of scatter cushions on the sofas, and a low armchair next to the window, perfect for soaking up the sun on a warm day. While we haven't shown a television in this room, there are TV and broadband points as well as USB plug sockets, making it easy to add your creature comforts.
Next door to the lounge there is a study. The colour scheme of oranges, brown and gold extends into this room. A bold geometric feature wall has a wood effect pattern on it, while a gold desk makes a prominent statement. There are also hints of leather on the mouse mats and armchair giving a traditional look, while a gold plaque on the desk engraved with the words 'Manager – Looking busy' adds a playful touch to this lavish home office. There are also some indoor plants adding a touch of greenery to the room. This study could also be used as a ground floor bedroom. The Dunrobin layout gives you a lot of flexibility throughout.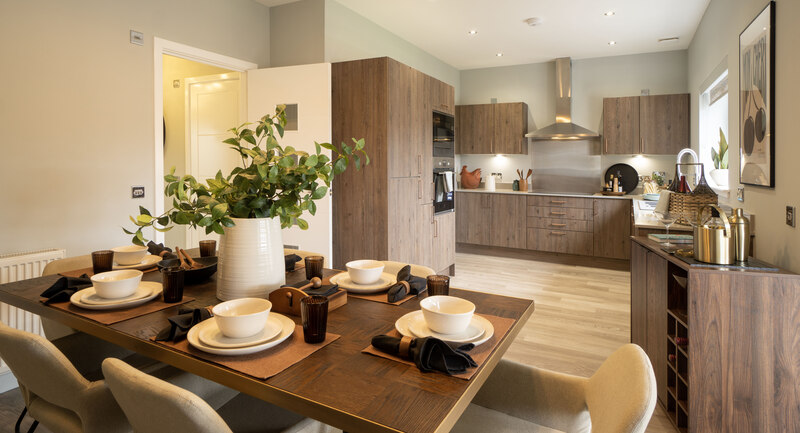 The expansive kitchen, dining and sunroom area is an impressive space, and sure to attract compliments from visitors to your new home. Turning firstly to the kitchen, the worktops and cabinets are a fitting choice for a country village feel. Its brown wooden doors and bronze handles complement a fresh white worktop, with a uniform look thanks to all the appliances being integrated, while the oven and microwave units embedded into the full height units add a pinch of variety and glamour. The walls are a soothing duck egg colour which is both fresh and relaxing. Worktops are adorned with trinkets that hint at country life, with a hen shaped container for storing fresh eggs and a picnic hamper with a bottle of wine inside. There's also a chic drinks trolley ready for action when guests come around. The adjacent utility room offers further storage and the ideal place for a washing machine and dryer.
The dining area features a brown and gold table, with six places set. You can just imagine this being the ideal place to gather on special occasions. The walls have photos of fresh ingredients arranged in modern black photo frames, certain to inspire you to want to get into the kitchen and explore your passion for cooking.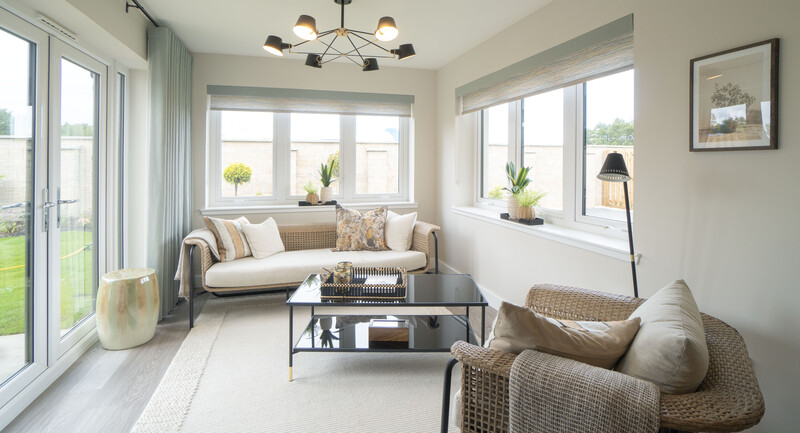 As we move onwards to the sunroom, there is a notable introduction of some new themes, with a much more bohemian feel created by the thatched furniture, throws and sand coloured furniture. This casts our minds to the beaches that are in abundance around the Fife coastline. And with French doors leading to the back garden, there is an immediate connection to nature and the outdoors. The garden is filled with flowers and small trees. With every Springfield home, we include the turf and 1.8m fence you can see, giving you a great start for creating a mini paradise in your garden, as well as an outdoor tap for keeping your plants healthy.
The final room on the ground floor is a handy W.C. off the main hallway. The various coloured speckles on the tiled flooring are a quirky choice, which again draws your mind to the beach. Meanwhile, the wall tiling, mirror and towel warmer you can see are all part of the standard specification.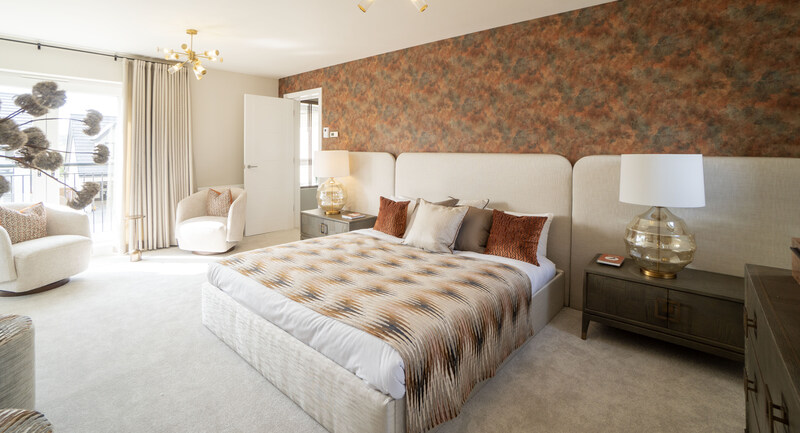 One floor down, one to go. As we ascend the stairs, the Dunrobin has just as much going for it on the upper level. Bedroom 1 is an alluring and aspirational room. Firstly, the size is just phenomenal. To give an idea of space, it is positioned above the double garage, and the bedroom, en-suite and walk in wardrobe together make up the same floor area as the space below. There are windows at each end of the room, making it feel open, and to the front, there are French doors, opening out to a Juliet balcony. The furniture chosen illustrates the space well, showing how this vast room can still have a warm and inviting ambience. The bed backboard spreads the full length of the feature wall, and large lampshades imitate the size of the room. There is also a dresser, make up table, and armchairs that make it feel like you've just stepped into a boutique hotel.
The en-suite matches this sentiment, with both a shower cubicle and floating bath offering a lavish retreat in which to pamper yourself. With rustic orange towels and candles galore adding a pop of colour against the streamlined appearance of the matching grey floor and wall tiles, it truly offers the best of the best.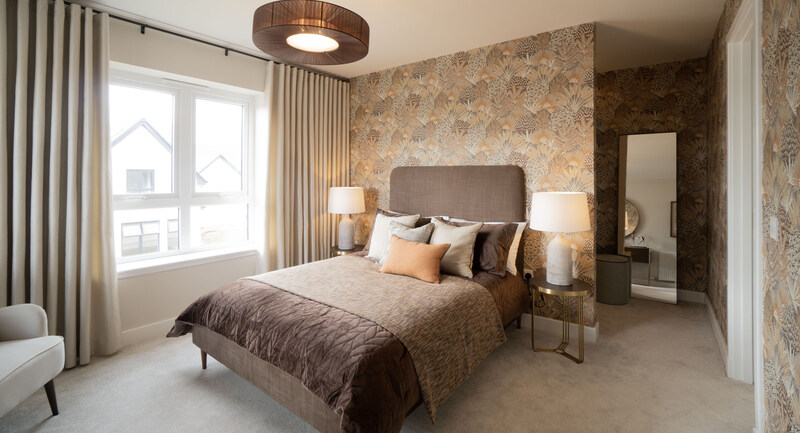 Moving to bedroom 2, the highlights continue. This room also has a private en-suite and walk in wardrobe, as well as dual aspect windows similar to the lounge downstairs, looking over the front of the property. The colour scheme of bedroom 1 is mirrored in this room, with soft brown, orange, and gold tones. The en-suite features an interesting choice of brick effect tiling, giving it a rustic charm. It also features a shower cubicle, as well as smart vanity units, a large modern wall mirror and heated towel warmer.
When thinking of who bedroom 3 could possibly belong to, one thing is for certain – they must be an animal lover. With colourful giraffe throw pillows, a cheeky statue of a monkey holding a light bulb and a zebra print footstool, there are lots of hints throughout. The bedside furniture has a continental vibe and a globe ornament on the dresser suggests an adventurous nature. A fitted wardrobe also provides great storage.
Bedroom 4 is a good size and would make an ideal kids' bedroom, guest room, or you could even repurpose it as a space for gaming, hobbies, or a playroom. Our designer has chosen a very relaxed décor, with wicker baskets masquerading as bedside tables, and a free flowing leaf pattern on the walls emerging from behind the bed. This room also has a fitted wardrobe, and while we have opted for a mirrored front, there are many options to choose from so you can customise each wardrobe door to your individual taste.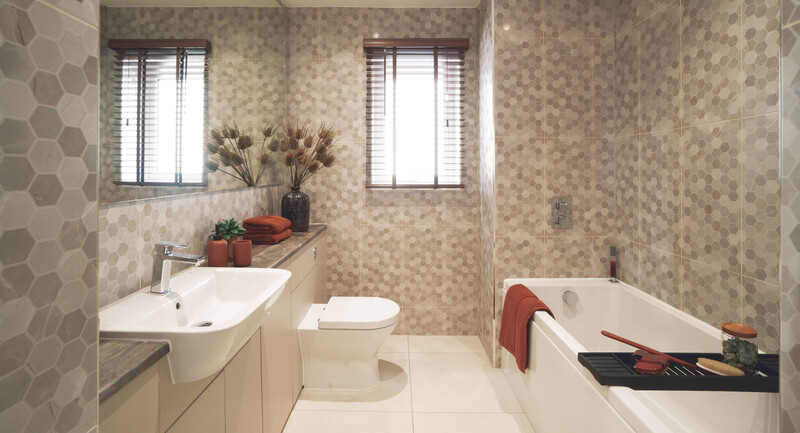 Finally, there is a bathroom located off the upstairs hallway, ideally positioned with two bedrooms either side providing a central location for all residents. The tiling chosen is a bold hexagonal print which is full height on all walls. It may be a bit of a stretch, but it doesn't look too dissimilar to the dimples of a golf ball, which is fitting with St Andrews just around the corner. This room has a bath and separate shower cubicle offering choice and flexibility.
So, what can we conclude about the Dunrobin? It boasts a sense of grandeur throughout, with rich brown and gold colour schemes, spacious rooms, and a premium specification. But underneath it all, it's a relaxed environment with comforting and welcoming elements throughout that make you want to call it your dream home.
If you'd like to view it in person, you can book a visit to our sales office. You can also view our Strathkinness development here. We hope you've enjoyed this virtual tour and look forward to welcoming you through our doors in future.
*This show home includes features which are optional upgrades available at an additional cost. Please speak to your sales consultant to confirm what is included as part of the standard specification on your desired development. This home has also been built with a sunroom which is only available on selected plots.
View next
Dover Heights, Dunfermline
View previous
Pool of Muckhart